Qualified Aviation Cameras & Software
Benchmark-setting Flight Eye camera series for all aviation applications
Flight Eye Program with FE 250, FE 320, FE 350, SE 320, and HUD Cameras.
These technologically advanced cameras cover all applications from nearfield area surveillance to pilots' eye in HALE UAV and even in space — superiority in onboard video capture proven in aerospace applications around the globe.
Full HD CMOS performance
Ethernet IP & H.264 compression
PTP time stamp
COTS product line
SWAP-C optimized
ITAR free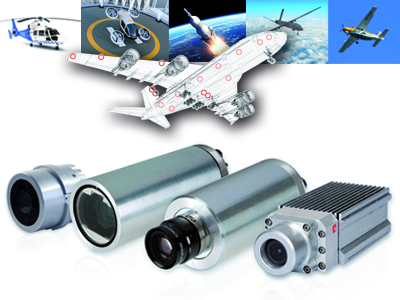 This ITAR-free, aviation-qualified FE camera family with SWaP-C (SWaP = reducing size, weight, power and cost) optimized design offers various physical setups and interfaces for integration into aircraft systems. Users can choose between compact or remote head versions. They also decide to go with onboard H.264 compression and dual streaming via GigE (e.g., for airborne mission recording/debriefing) or zero-latency via HD-SDI (e.g., for UAV piloting from the drone control room/sight through HUD).
The SE320's design is even qualified for environmental conditions in space applications. International OEMs and MROs have closely accompanied the development of this modularly designed COTS product line, also perfectly suited for retrofit solutions.
One model in the FE family addresses a current hot topic in the aviation industry: light aircraft crash recording (for planes such as Cessna or VTOL air taxis) that complies with NTSB guidelines and current EASA regulation. Here, Kappa's FE 320 comes into play, an optimized solution for crash safety data recording that is fully ED-155/ ED-112 qualified and comes with the required DAL-D design assurance level (in accordance with DO-178/DO-154).
Compliance is key in aviation: This is where Kappa makes the difference with 40 years of camera and vision system experience for anything that drives or flies.
Technical Data Matrix Aviation
| | FE 320 Flight Eye | SE 320 Space Eye | FE 350 Flight Eye | FE 250 Flight Eye |
| --- | --- | --- | --- | --- |
| Qualified, certifiable | ROHS, RTCA, DO-160, others on request | ROHS, RTCA, DO-160, NSRP qualified program: NASA Sounding Rocket Operations | ROHS, RTCA, DO-160, others on request | ROHS, RTCA, DO-160, others on request |
| Environments | Indoor/Outdoor | Indoor/Outdoor/ Vacuum | Indoor/Outdoor | Indoor/Outdoor |
| References / Application proof | FTI for fixed wings aircraft and rotary wings, crash recording for light aircraft and helicopters, UAVs, VTOL / air taxi, training, debriefing and recording; surveillance for cockpit and external cargo | Space & launcher applications | UAV piloting for HALE, MALE, VTOL, Super sonic harsh aerial vehicles; FTI; taxiing | UAV piloting; FTI (standard item for Airbus); transport aircraft; AAR; taxiing |
| OS / Interfaces | Embedded Linux, IP Ethernet / FTP access | Embedded Linux, IP Ethernet / FTP access | Embedded Linux, IP Ethernet / FTP access, INET-X | HD-SDI, SD-SDI, RS422/232 |
| Sensors | CMOS, global shutter | CMOS, global shutter | CCD, global shutter, color (monochrome on request) | CCD, global shutter, color (monochrome on request) |
| Resolution | up to Full HD 1080p60 | up to Full HD 1080p60 | Dual video streams: Full HD 1920x1080p30, 640x360p30 | HD-SDI, HDTV, 1920x1080p25 |
| Control interface | GeniCam, XML Files (Control), GigE Vision, optional: SferiRec® (FE 320 LCR) | GeniCam, XML-Files (Control), GigE Vision | GeniCam, XML-files (Control), GigE Vision, MPEG2TS (Data), PoE (Power) | RS 485, Kappa protocol |
| Triggering | External hardware trigger, software trigger | External hardware trigger, software trigger | External hardware trigger | - |
| Time synchronicity | PTPv2 (IEEE1588) | PTPv2 (IEEE1588) | PTPv2 (IEEE1588) | - |
| Latency | Camera: < 150 ms (Approx. 80 ms between sensor and camera output @ 1080p60) | Camera: < 150 ms (Approx. 80 ms between sensor and camera output @ 1080p60) | Glass-to-glass: < 250 ms | Camera: < 10 ms |
| Memory | Internal SD for loop recording | Internal SD for loop recording | - | - |
| Compression | H.264, 1-16 Mbit/s, dual streaming, high profile (level 5) adjustable | H.264, 1-16 Mbit/s, dual streaming, high profile (level 5) adjustable | H.264 compression, 1-16 Mbit/s, dual streaming, high profile (level 5) adjustable | - |
| Interfaces / bandwith | GigE, 1 Gbit/s | GigE, 1 Gbit/s | Ethernet 100 Mbit/s | HD-SDI, 1.5 Gbit/s |
| Frame rate | 1080p60 (60 fps), 720p120 (120 fps), 360p200 (180 fps), adjustable up to 180 fps depending on resolution and imager | 1080p60 (60 fps), 720p120 (120 fps), 360p200 (180 fps), adjustable up to 180 fps depending on resolution and imager | Adjustable from 1-30 fps | SD-SDI 50i, HD-SDI 25p |
| Dimension / Weight | CEU (corpus): 59 x 40 x 116 mm (incl. connectors), appr. 360 g; CSU (head): 50 x 39 x 53 mm, appr. 150 g (51° HFoV, excl. heater, incl. lens protection) | CEU (corpus): 59 x 40 x 116 mm (incl. connectors), appr. 360 g; CSU (head): 50 x 39 x 53 mm, appr. 150 g (51° HFoV, excl. heater, incl. lens protection) | CEU (corpus): 59 x 40 x 116 mm (incl. connectors), appr. 360 g; CSU (head): 50 x 39 x 53 mm, appr. 150 g (51° HFoV, excl. heater, incl. lens protection) | Ø 60 x 140mm (excl. Connectors), 620g (depending on model) |
| Power supply | 9-36 V DC (compact & remote head version), optional: 9-60 V DC with CPE, power interruption 100ms) | 9-36 V DC (compact & remote head version), optional: 9-60 V DC with CPE, power interruption 100ms) | MIL-STD 704 A; 18.5-32.5 V DC, galvanic isolation | MIL-STD 704 A, 15-50 V DC, galvanic isolation |
| De-icing / De-misting system | Optional | Optional | Built-in | Built-in |
| Specials | Modular concept, flexible with remote head, distance up to 10m, active-wire, COTS, ITAR-free | Tested in vacuum and for extended shock & vibration conditions for space application. NASA-tested ME40280 environmental test, COTS, ITAR free | easy integration in any electrical environment with power peak and power gap protection (250 ms), COTS, ITAR free | Standard camera for AIRBUS FTI, COTS, ITAR free |