Versatile: Streaming IP Cameras with H.264
Full HD 1080p60, H.264 compression, DVI/HDMI/GigE, PoE, GeniCam, XML-files, SD-card ...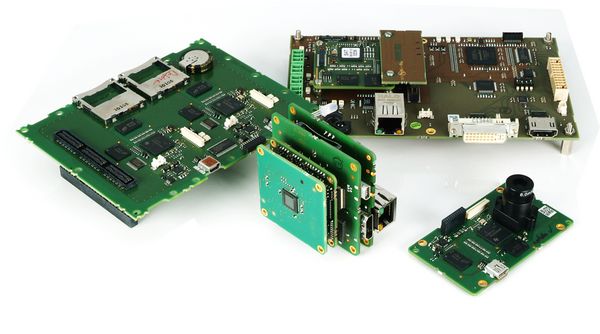 Ethernet Camera
Data transport from the MDC takes place via Ethernet connection, making the MDC virtually universally adaptable and connectible. It can operate in direct peer-to-peer connection or within a branched network architecture including numerous devices. Cost-effective, robust, existant network infrastructure can be used in every case, regardless of whether one camera is used or several are operated concurrently in the network.
Strong in Streaming: Simultaneous Streaming and Real-Time Streaming
When high-quality, high-resolution compressed video matters, the MDC technology platform really demonstrates its particular strengths. All streaming protocols as well as the universal hardware encoder for video are implemented. MDC cameras use a real-time streaming protocol. Using PTP Precision Time Protocol, the IP network camera's current system time is synchronized. Video data may be streamed via GigE Vision as an alternative. Even dual streaming for parallel recording of two different resolutions is possible.
Principle for Success: Maximum Flexibility for Modifications
With maximum modularity, the circuit layout in MDC cameras offers the highest possible flexibility for rapid modification implementation. Latest CMOS sensors with different optical sizes, FPGAs, μ-controllers and processors can be combined. In the future, the control environment will also include provisions for system peripherals such as lenses and microscopes.
Miniaturization with HDI Multilayers
The circuit board layout is miniaturized using HDI multilayers. A wide variety of models are available: board cameras, cameras with offset heads, and very compact design executions within the housing.
Modular Solutions from Affordable to High-End
Every camera solution built on the Juno technology platform offers an attractive price-to-performance ratio. The highest directive in its development was to create a platform that could be realized using scaleable customer solutions even under heavy cost pressure. High-end solutions are just as possible as those at entry level; small quantities are just as doable as large-scale production.
Highlights
Embedded Linux
H.264, adjustable
Low latency
Streaming/multi-streaming
iP Ethernet/ FTP acces
DVI/HDMI
GigE, PoE
GeniCam, XML-files
SD-card memory
Maximum data rate (CSI-2), 3.2 Gb/s
High definition, up to Full HD 1080p/60, FTP access
External trigger/strobe out
Global shutter sensors (e.g., IMX252, IMX174, IMX250)
CSI-2, image sensor connection, fast adaptation of new sensors
Separate camera heads possible up to 15 m
up to 200 fps