Become part of our successful sales network!
We are looking for new international sales partners! Interested?
You: You have experience in representing technology companies and are well connected in the aerospace and defense industry (OEM, MOD) of your country.

We: At Kappa optronics we develop and manufacture outstanding cameras and vision systems for international aerospace and defense customers.
Please get in touch with:
Global Channel Management
Bodo Kriening
Sales Network Worldwide, from A to Z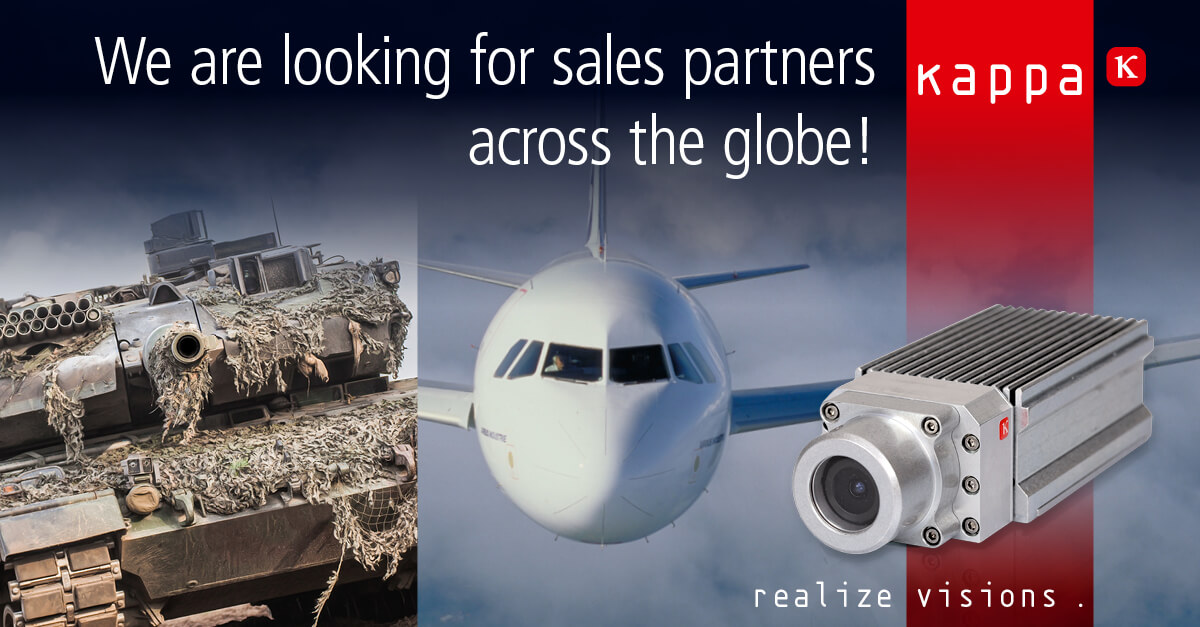 Kappa Deutschland | Zentrale
Kappa optronics GmbH
Kleines Feld 6
37130 Gleichen
GERMANY
Tel +49.5508.974.0
Fax +49.5508.974.188
info@kappa-optronics.com
Kappa optronics S.L.
C/ Jose Echegaray 8, Ed. 3, Planta 2, Modulo 5
28232 Las Rozas.Madrid
SPAIN
Tel +34.62.711.55.05
contacto@kappa-optronics.com
International Sales-Partner
| | | | |
| --- | --- | --- | --- |
| Country + City HQ | Company Name | Contact Person | Kappa Business Unit |
| Brazil, Sao Paulo | Ingenium Assessoria | Mr. Rafael Molina | Aviation & Defense |
| China, Beijing | New World Telecom Co.,Ltd | Mr. Niu Jun | Aviation / FTI |
| China, Xiamen | AVIC International Xiamen | Ms. Tang Jie | Aviation & Defense & Vision Solutions |
| India, Bangalore | Mach Bridge Avionics (P) Limited | Mr. Nauveen B Malik | Aviation & Defense |
| Indonesia, Jakarta | Mandala Dharma Krida (MDK) | Mr. Eddy Tandiary | Aviation & Defense |
| Israel, Tel Aviv | Militram | Mr. Uri Harel | Aviation & Defense |
| Italy, Milano | Danetech | D.PP Caporossi | Aviation & Defense |
| Malaysia | AVIC International Xiamen | Ms. Tang Jie | Aviation & Defense & Vision Solutions |
| Pakistan, Islamabad | Pegasus Enterprise | Mr. Shahid Hamid | Defense Land |
| Pakistan, Karachi | MISL | Mr. Humayun Qureshi | Aviation / FTI |
| Philippines | AVIC International Xiamen | Ms. Tang Jie | Aviation & Defense & Vision Solutions |
| Poland, Warsaw | Griffin Group S.A. Defence sp. k. | Mr. Piotr Kosicki | Defense Land |
| Singapore | AVIC International Xiamen | Ms. Tang Jie | Aviation & Defense & Vision Solutions |
| South Korea, Seoul | DM Korea | Mr. Dongmyung Kim | Defense Land |
| South Korea, Suwon | Soltron Corporation | Mr. Simon Yoon | Aviation & Land |
| Taiwan | AVIC International Xiamen | Ms. Tang Jie | Aviation & Defense & Vision Solutions |
| Turkey, Ankara | Elsint Defence & Technology Corporation | (Col.Ret.) Cem Köse | Aviation & Defense |
| United Kingdom, Thame | Photo-Sonics | Mr. Simon Harris | Aviation & Defense |