Cameras for Flight Data and Cockpit Recorders | Lightweight Aircraft (ED-155)
Recording solutions for light aircraft, helicopters and UAV
Upcoming ED-155 regulation requires in-flight recording for numerous light aircraft. Kappa provides specially adapted cockpit cameras for performant all-in-one ED-155 camera/recorder solutions. In these applications the cockpit camera delivers video streams of the cockpit instruments and of what happens in the cockpit. In the event of air accidents efficient investigations can be conducted based on reliable crash recording data. Smart and light data recorders combined with cockpit cameras will advance safety in the lightweight aircraft sector for aircraft without blackboxes!
HENSOLDT SferiRec LCR Lighweight Crash Recorder with Kappa FE 320 LCR Cockpit Cameras
Joint expertise for all-in-one ED-155 solution
We are proud to be the camera partner in this great ED-155 recording solution for lightweight aircraft with Hensoldt! An all-in-one solution only works perfectly if the components harmonize. The FE 320 LCR cockpit image data camera provides FullHD 1080p, Ethernet IP and H.264 compression. Perfectly attuned to the SferiRec ® LCR lightweight crash recorder, it meets every ED-155 requirement: HDR video quality under extreme light conditions, frame rate adjustments, distortion-free images at wide field of view, and uninterrupted, digitally stabilized video streaming even under heavy aircraft vibrations.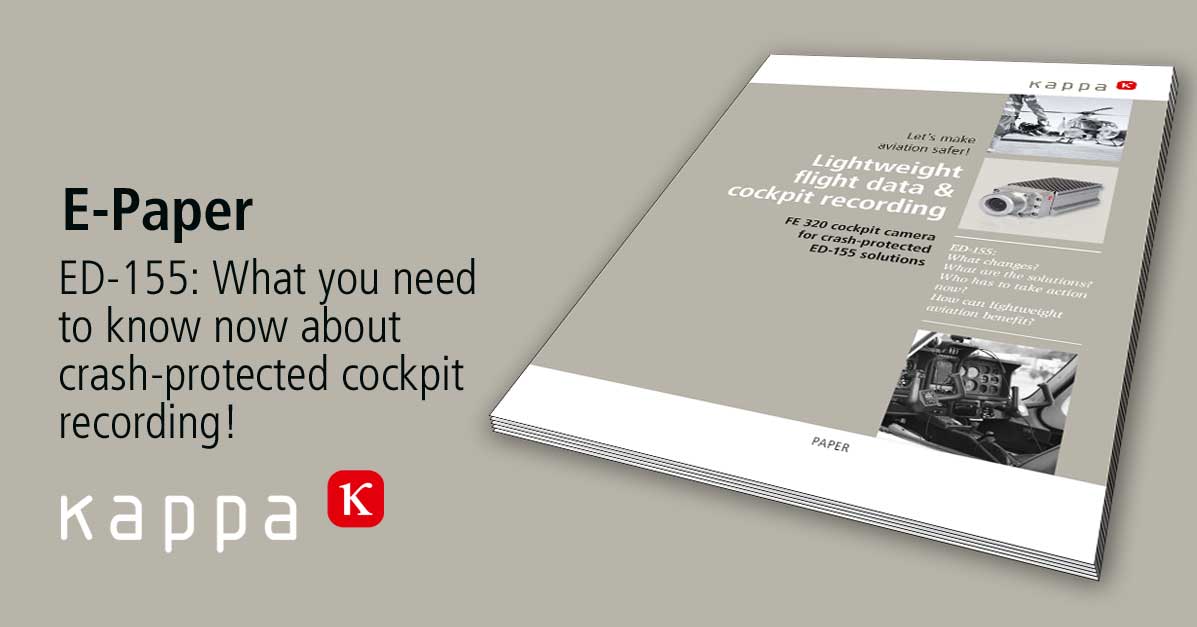 ED-155: What you need to know now about crash-protected cockpit recording!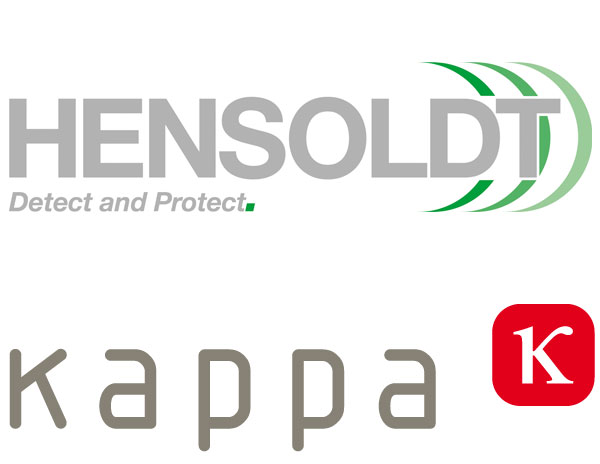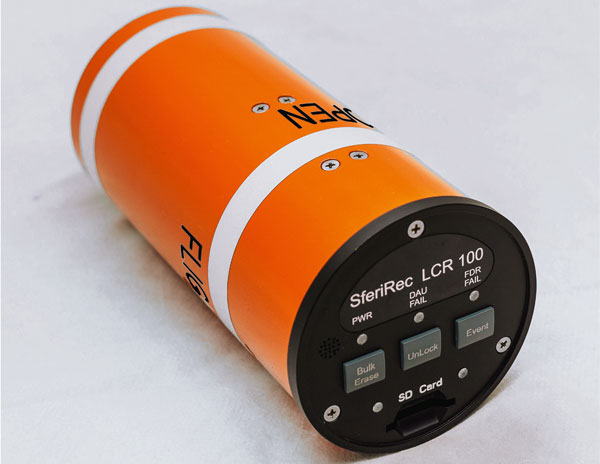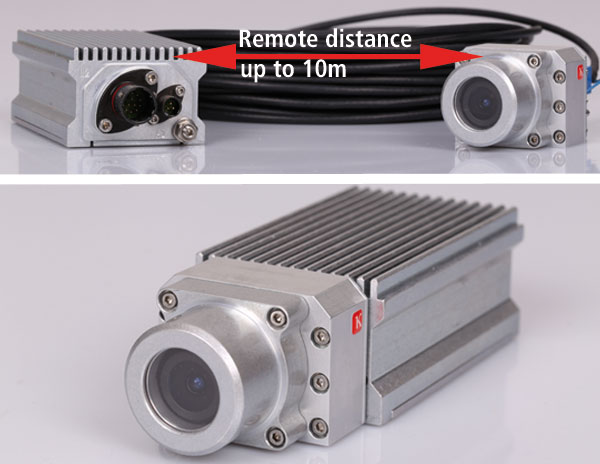 HENSOLDT & Kappa ED-155 Solution | Your Benefits:
Two powerful brands, one solution
The HENSOLDT SferiRec ® LCR together with the Kappa FE 320 LCR camera, the complete powerful solution
Acquiring and recording of flight data with high-quality cockpit voices and images (4 frames per second, full HD resolution) into the Crash Protected Memory (CPM)
Consisting of only two Line Replaceable Units (LRUs) easy to install (forward and retrofit)
Accessing maintenance data directly after flight
Analysing and evaluating data for debriefing and accident investigation
SferiRec® LCR
Lightest recorder on the market weighing 1 kilogram / 2.2 lbs
Unites all acquisition andrecording functions in one single box: cockpit voice-, cockpit image-, flight-data and Crash Protected Memory (CPM) that were previously spread across diff erent devices
Contains its own internal sensors: area microphone (according ED-155), 3-axis gyroscope and g-sensors, air pressure and temperature sensors, GPS receiver
Available in two form factors (ARINC 408 cylindrical and 306 rectangular)
Offering a Quick Access Recorder (QAR) via SD card
EASA (E)TSO-2C197 certified
FE 320 LCR Cockpit Camera
Modular housing design, compact and remote (detached)
SWAP-C Design
Remote distance up to 10 m
Full HD video with configurable bandwidth down to 200 Kbit and frame rate (1-60 fps, e.g. 4 fps)
No additional costs for video compression
PTP time stamp at frame acquisition
Fully qualified ED-112, ED-155, DO-178 C DAL D, DO-254 DAL D, DO-160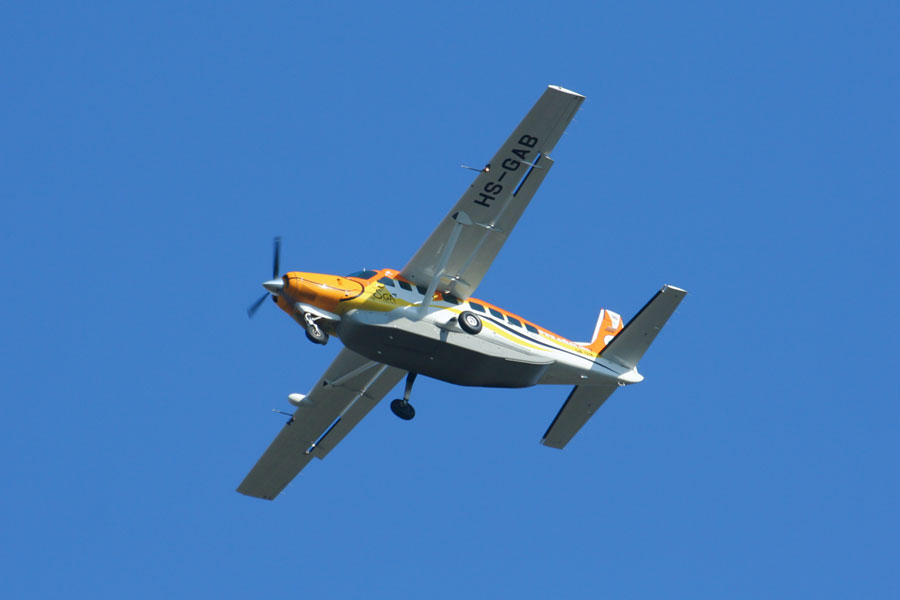 Upcoming EU regulations (ED-155)
You are an aircraft manufacturer, an aircraft operator, a flight school or a pilot, your platforms will need to be equipped with in-flight recording if:
they are commercially operated (CAT or SPO)
it is a turbine-engined aeroplane with a Maximum Certified Take-Off Mass (MCTOM) of 2.250 kg or more
it is an aeroplane having a Maximum Operational Passenger Seating Configuration (MOPSC) of more than 9 passengers
it is a turbine-engined helicopter with MCTOM of 2.250 kg or more
Kappa Flight Eye Aviation Cameras for Lightweight Aircraft - a video overview