Digital Mirror Portfolio Automotive CMS | ADAS
Rearview OneBox for digital CMS mirror class I and class III
One powerful platform for multiple mirror classes and vehicle types - ingenious flexibility for digital automotive vision solutions!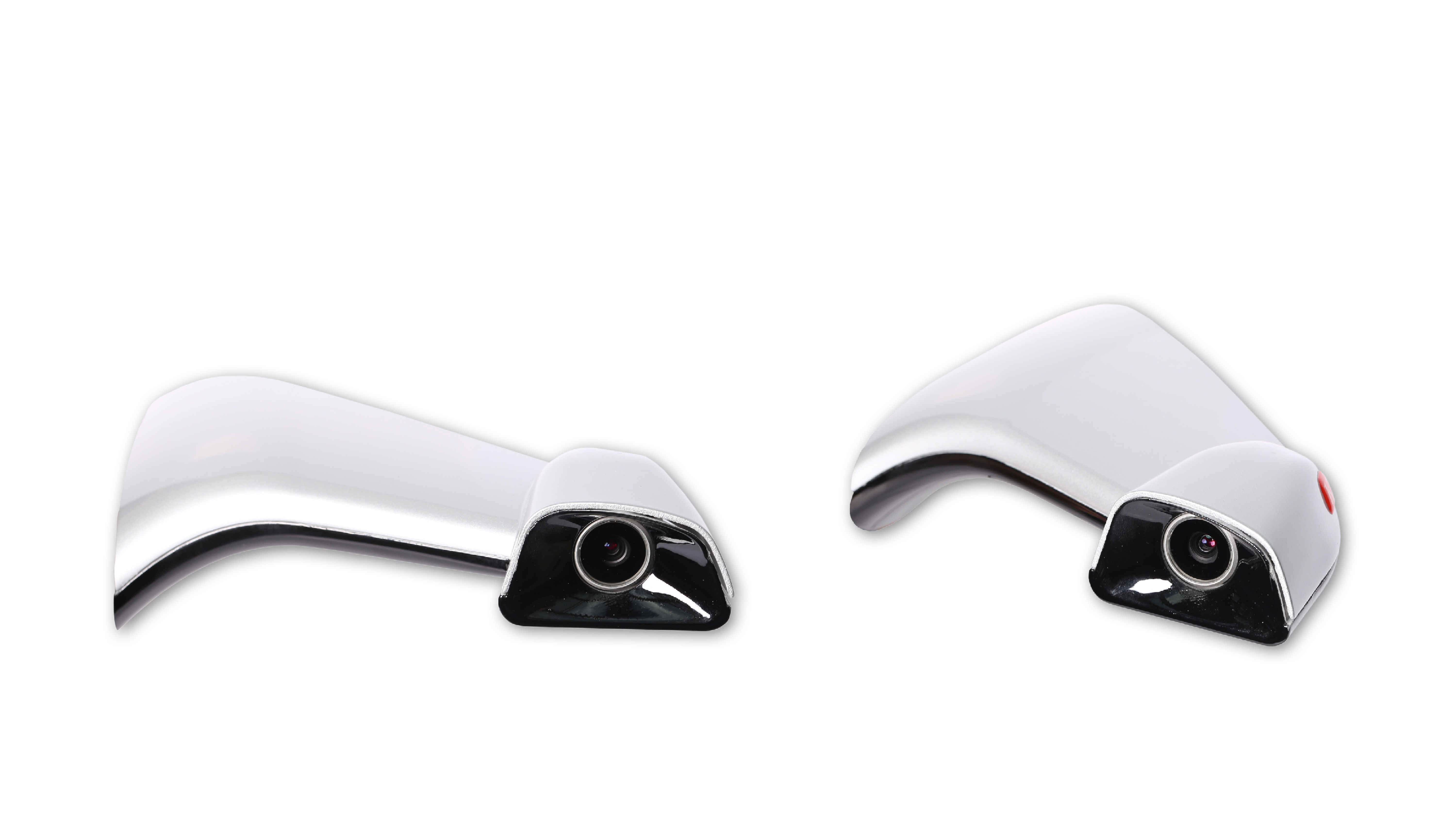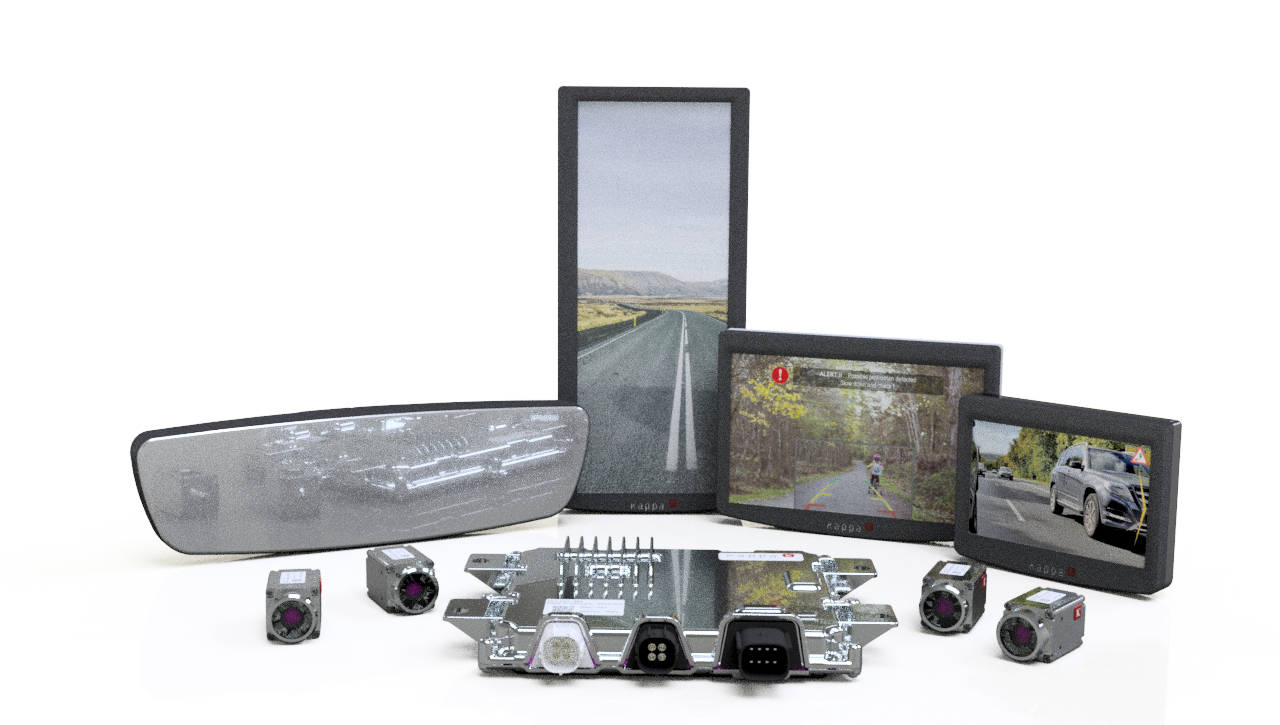 Powerful Components: Automotive Camera
Best in class: small - fast - amazing image quality

Features
2.6 Mpx camera
Digital video output and control backchannel
New image sensor with latest LED Flicker mitigation
G2G low video latency: < 30 ms @ 22°C ± 5°C
High end night vision performance
High quality 5G optics
Integrated smart PTC heater for de-ice/de-mist
Highlights: Integrated heater, IP69K protection, HDR ISP, high-end electro-optical components for outstanding sensitivity, flare, and ghost artefacts
Software: ISP Firmware integrated
Resolution: 1920 x 1080 pixel (2.6 MP)
Dynamic: >120 dB
Interface: High speed serial link with MIPI CSI-2 video and I2C control combined with power supply
Heater: Integrated de-ice and de-mist
Temperature: -40° up to + 85°C
Dimension/weight: without connector: 44.75 x 26 x 26 , with connector: 54.8 x 26 x 26, approx. 80 g
Connector: Fakra with 50 Ohm Coax (one for both, power supply and signal)

Powerful Components: Electronic Control Unit | ECU
The brain of every CMS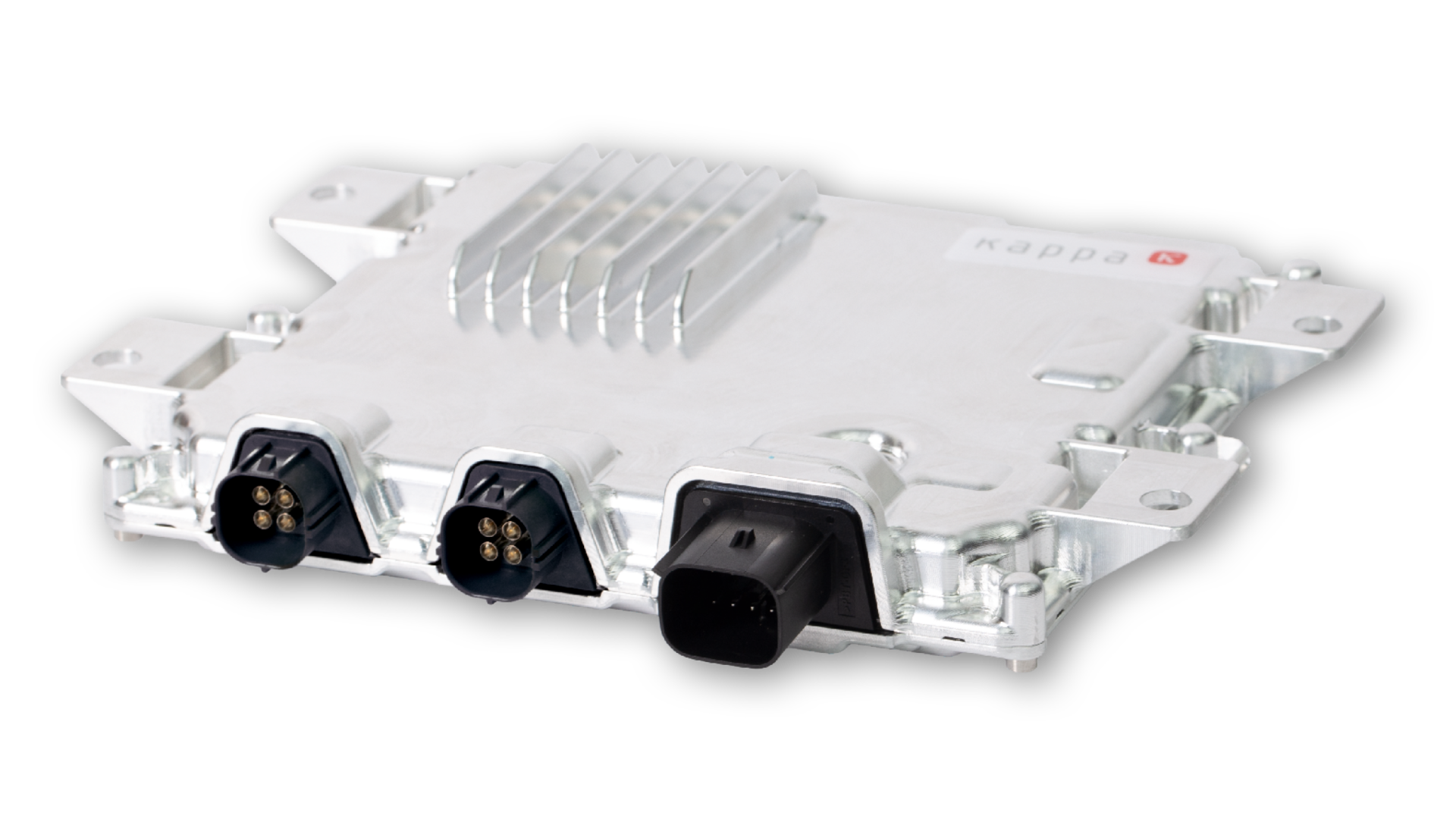 Centralized ECU System: A powerful manager for multiple digital rearview systems
Centralized
Centralized ECU system, capable to cover up to 3 different R46 rearview systems (Class III, Class I and Parking view
Powerful ECU capable to manage up to 4 cameras (2.6 Mpx running at Full HD – 60 fps) and 3 HD displays with different sizes
CAN
Hardware ready for future Software updates by CAN with additional functions
Partial off the shelf product (*Partial adaptation are needed for CAN communication signals)
SoC
Based on one of the most powerful SoC in the market to run all cameras, displays and software as required.
ECU System Architecture
Class I, Class III and Parking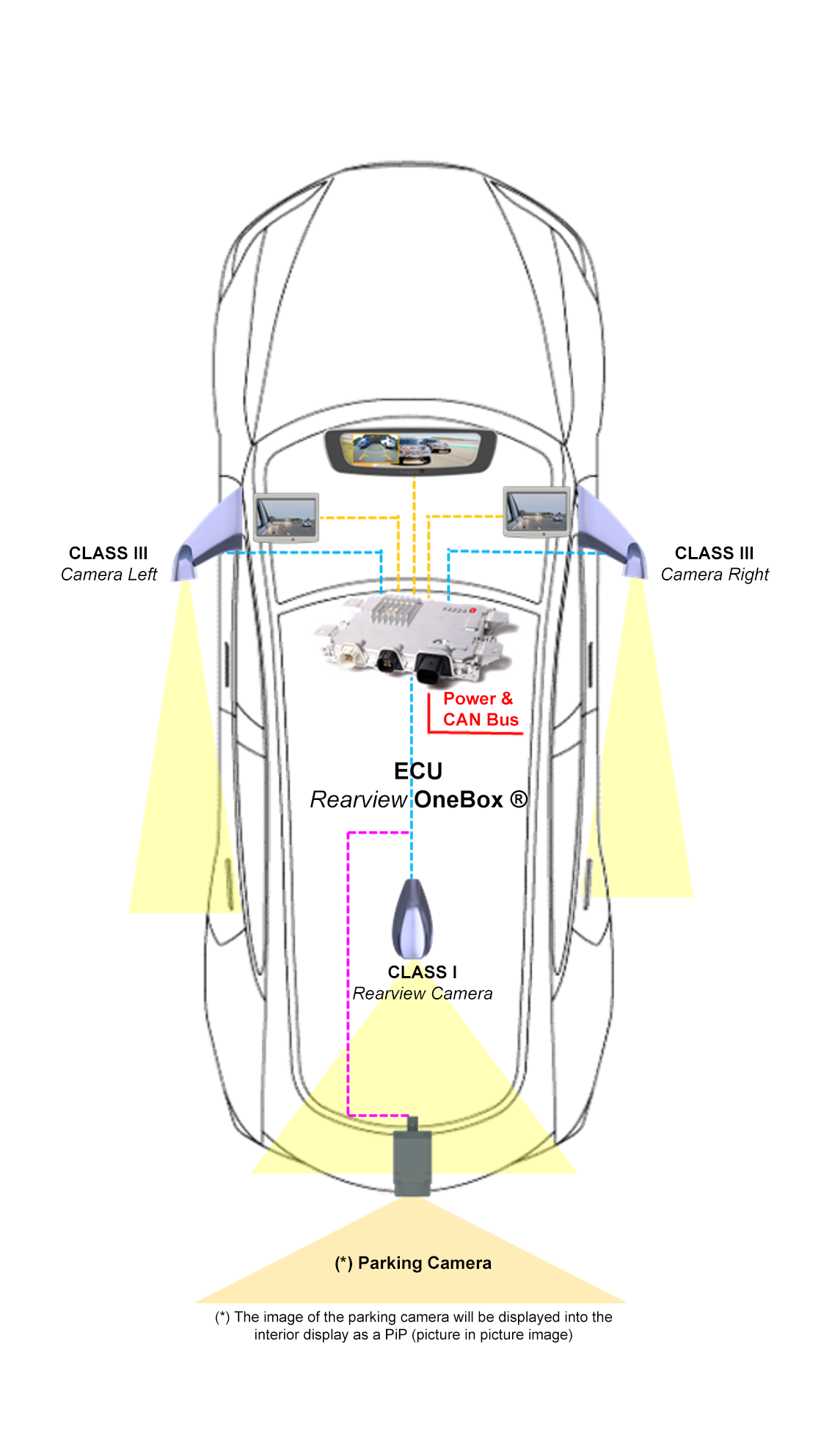 ECU - Electronic Control Unit
Highlights
IP67 protection, powerful FPGA, safety mechanisms, multi-device power supply, rugged aluminum housing, UNECE R10, ISPR25
Software - smart features as options:
1º Parking camera view (PiP), 2º Visual blind spot alerts, 3º Rearview visual alert, 4º Blinker visualization
Updates via CAN
Interface
A single ECU controls up to 4 cameras and 3 displays
Temperature
40° up to + 95°C
Dimension
182 x 168 x 33 (without brackets)
Connector
Main connector (Header), Camera connector (Quad-Fakra), Display connector (Quad-Fakra)
Powerful Components: scalable software, ready for future software updates by CAN
Automotive Digital Mirror Software Features:
Rearview visual alert | PiP Parking (Picture in Picture) | Visual blind spot alert | Blinker visualization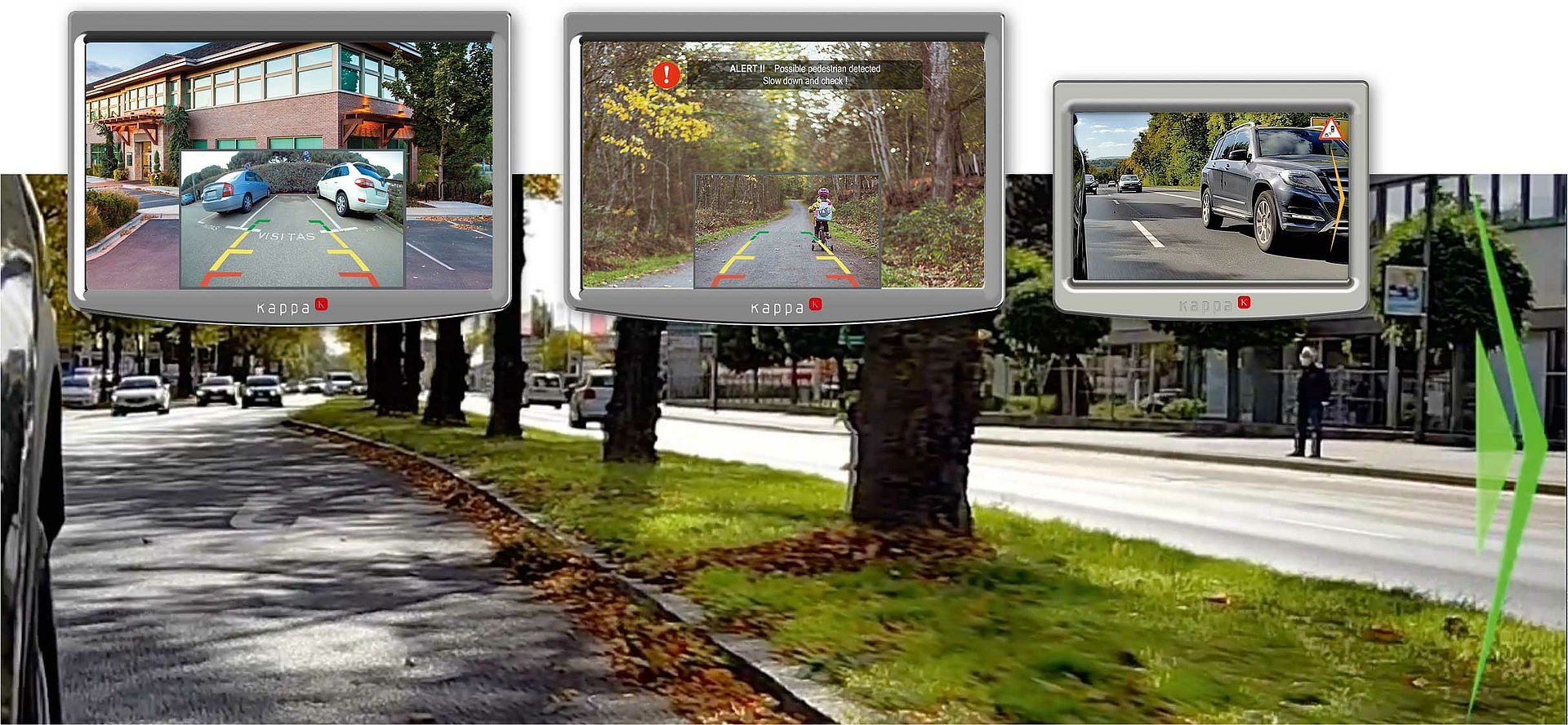 Powerful Components: Displays
Display scalability for multiple vehicles - 5 ", 7 ", 8.8 " panoramic, 10.25 " and more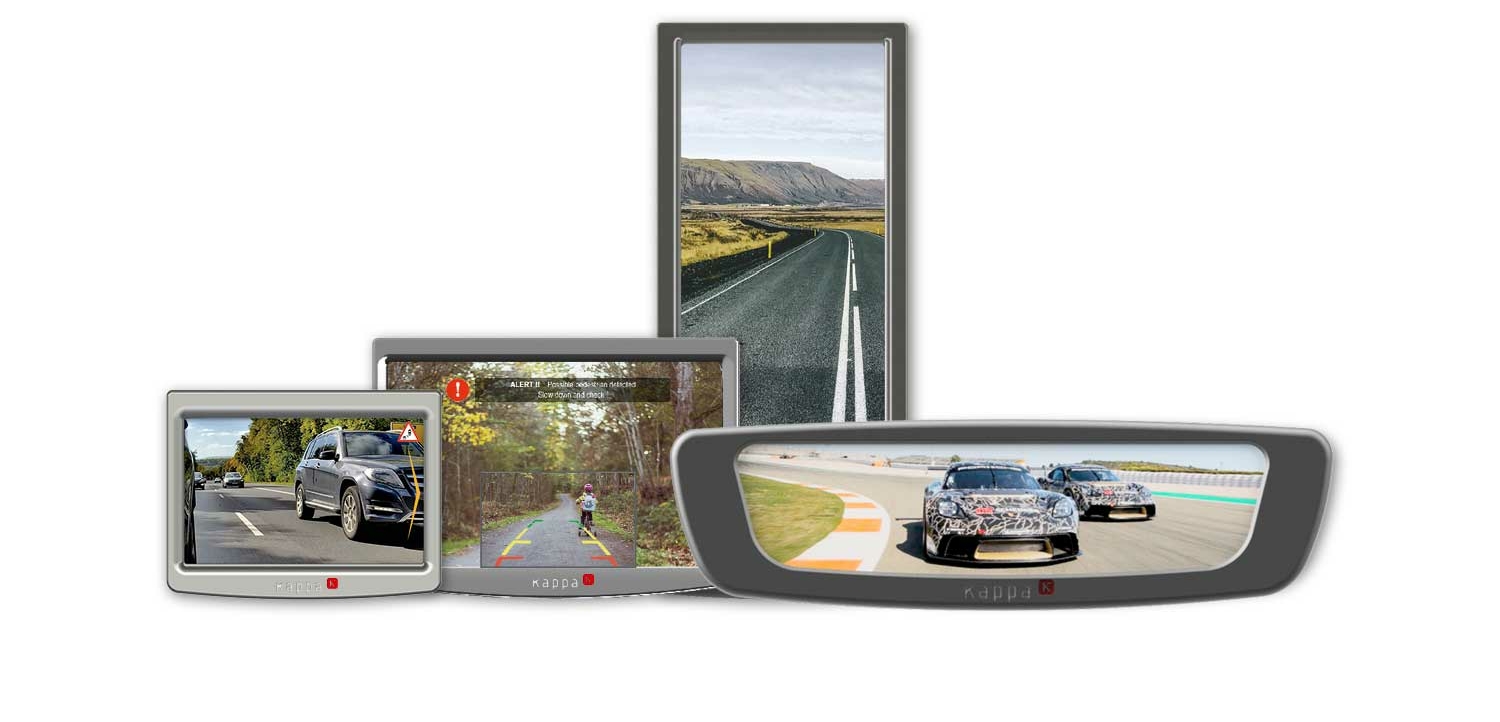 General Highlights - Displays CMS Automotive Portfolio
Very good operating Tª ranges
Customized cover-glass
High brightness & contrast
Smart Software Function
Display Firmware integrated
Frame rate 60 Hz (60 Fps)
Interface High-speed serial link based on MIPI-DSI protocol and I2C control combined with power supply
Connector Typ MCX, one for both, power supply and signal
Temperature min. -30 up to +85
Resolution & Contrast - Displays CMS Automotive Portfolio
| Resolution, sizes | Contrast, brightness, viewing angle | Dimension, weight |
| --- | --- | --- |
| 5" : 800 x 480 (px) | 1:1000, 900 cd, 75°-85° | 119 x 85 x 5, 160 g (TFT) |
| 7" : 1280 x 768 (px) | 1:1000, 930 cd, 80° | 163 x 107 x 6, 220 g |
| 8.8" : 1920 x 480 (px) | 1: 800, 1000cd, 75-80° | |
| 10.25" : 1920 x 720 (px) | 1:1300, 800 cd, 80 | 10,25": 255 x 107 x 7, 345 g |
Compliance: Safety First
We meet all safety requirements on design assurance procedures
| | |
| --- | --- |
| Fully automotive-grade product | EMC UNECE R10 CISPR25 (level 3) |
| Homologated system according ISO16505 / ECE R46 | Saftey level ASIL B |
| Kappa optronics can fulfill IATF 16949 | System Test & Validation strictest requirements of automotive standards |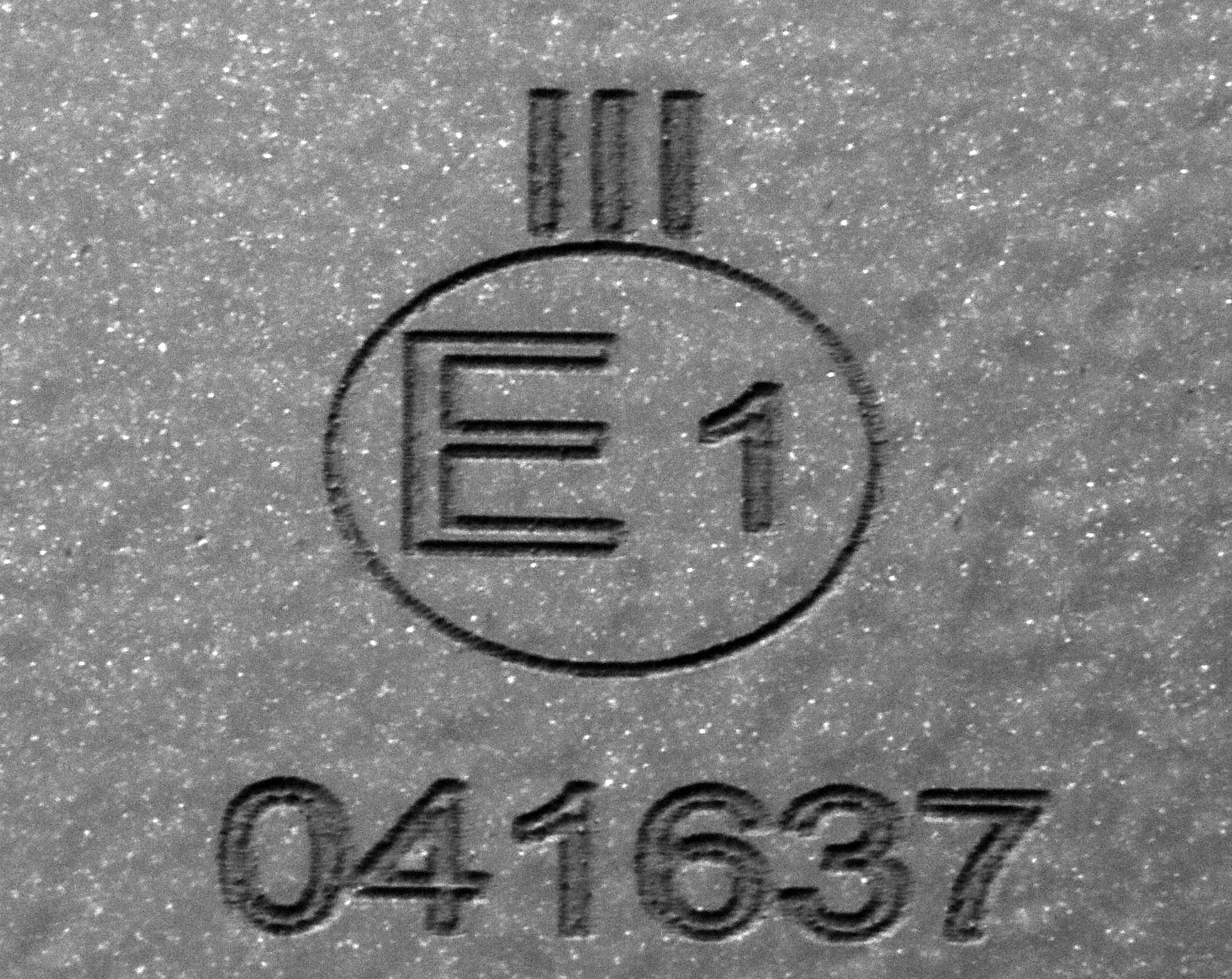 System architecture based on outstanding FoV design
Mirror Class I, III, and parking view