Cockpit Cameras for All Cockpit Surveillance Tasks
Your OEM camera partner for cockpit & flight data recording solutions (ED-155 & ED-112)
Flight data recording is a standard requirement with high safety value for aircraft of all types, including a large number of Lightweight Aircraft from 2022 onwards. Operators have to comply with the requirements of the corresponding regulations ED-155 and ED-112. At the same time they can largely benefit from the use of an incredible data resource with great potential for the investigation of aviation accidents, the classic black box case (Crash Recording), but also for multiple applications in flight training, de-briefing, insurance, maintenance and more. Specific cockpit cameras are key for performant solutions.
Perfect cockpit cameras for all-in-one recording solutions
As an OEM partner, we offer efficient customized camera solutions for combined all-in-one solutions with modern recorders. Often these recording solutions are tailor-made for existing peripherals and efficiently designed for the requirements of the regulations. The highlight: With our camera solutions, high-quality video streams with high frame rates up to 60 fps can be used on top.
Bridge technology for analog-based cockpit instrumentation
Cockpit cameras also build a bridge between the partly still analog equipment of valuable aircraft and modern digital requirements. By video recording of analog instruments in flight, the requirements of current regulations can be met with low investment costs and proven fleets can continue to be operated according to modern safety standards.
Rely on a competent partner with decades of experience in aviation-qualified cameras!
Based on our worldwide unique Flight Eye program, we offer a range of specially adapted cockpit cameras for cockpit recording solutions. Contact our experts for a comprehensive consultation on your needs!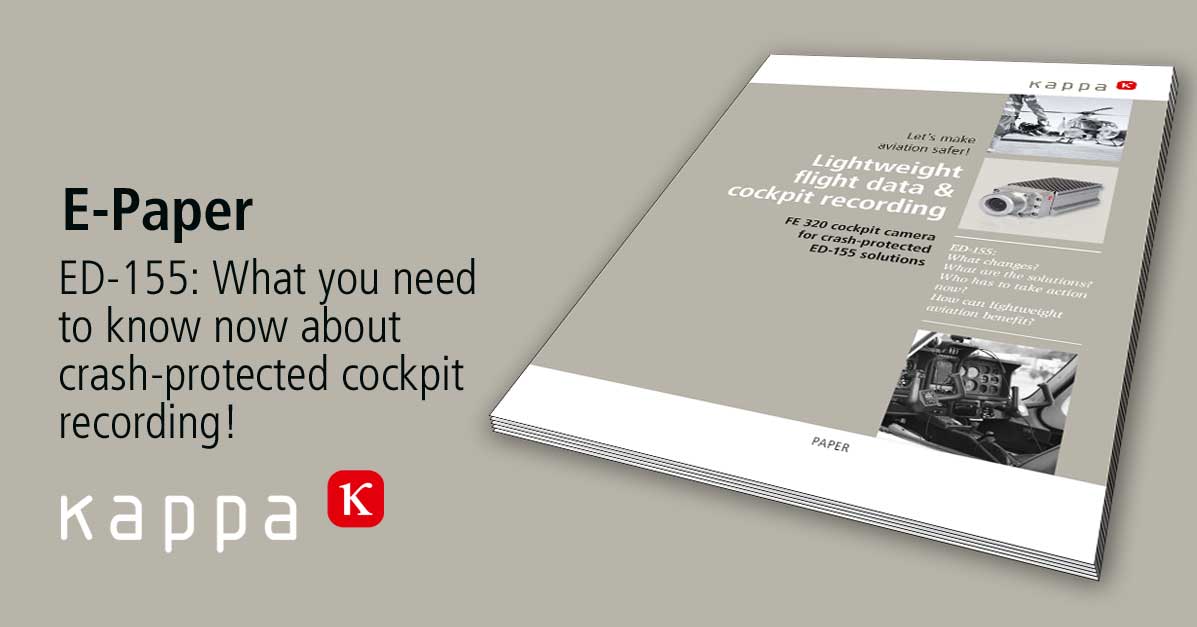 ED-155: What you need to know now about crash-protected cockpit recording!
The Joker Solution for Cockpit & Flight Data Recording
Cockpit Camera Technology
Great video quality
Low-light / high contrast cameras
Up to 60 fps
SWaP-C optimized design
Small customized housing, adapted to your environment
Aviation-qualified COTS design
ED-112, ED-155
Fulfill requirements for all aircrafts
Perfect OEM customization for integration into specific cockpit and flight data recorders
Lean solutions for analog-based cockpits
Part of complete aircraft surveillance programs
Your Benefits
Let's make aviation safer!
Use great videos for multiple purposes!
Uncorruptible, fact-based, reliable, safe
Perfect for flight schools, assessment, training & debriefing, maintenance, assurances, and of course investigation of accidents
Flight Eye
High performance cockpit cameras
Safe!
ED-112 & ED-155 solutions
Multiple Use
Great cockpit videos